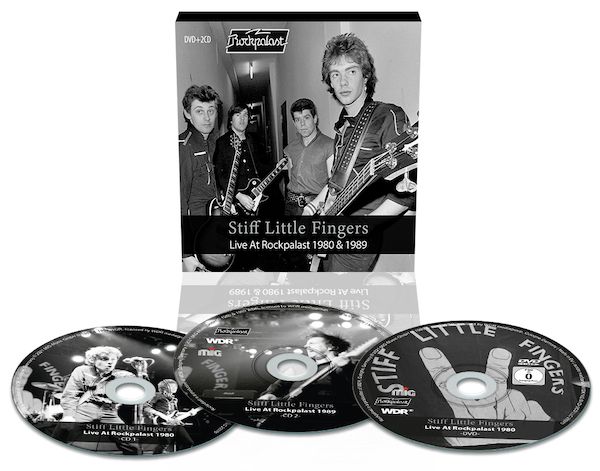 New Stiff Little Fingers live CD/DVD set out now: Live at Rockpalast. Comprised of three discs, "Live at Rockpalast 1980 & 1989" – the first two discs are audio-only, featuring the band's 1980 and 1989 performances, while the third disc is a DVD of the group's classic 1980 appearance on Germany's long-running music show.
Jake Burns remembers, "The place was packed and the audience was with us from the first note. They were wonderful, singing and bouncing along. It really felt like a 'home game' to use a football analogy. I thought we played really well too, apart from a slight timing mistake during "Back to Front", a new song we were still learning. (See if you can spot my giving Jim the "look of death" at that point! LOL!)."
Previously available only as a lesser-quality bootleg, this is the earliest official video release of a full Stiff Little Fingers concert. 
The CD/DVD is available on Amazon and other musical outlets. The streaming version is available on your usual streaming apps. View the trailer now on YouTube, and enjoy!